European Progressive Hard Rock Group HEADLESS Release New Song/Video, Band to Tour with Geoff Tate in March/April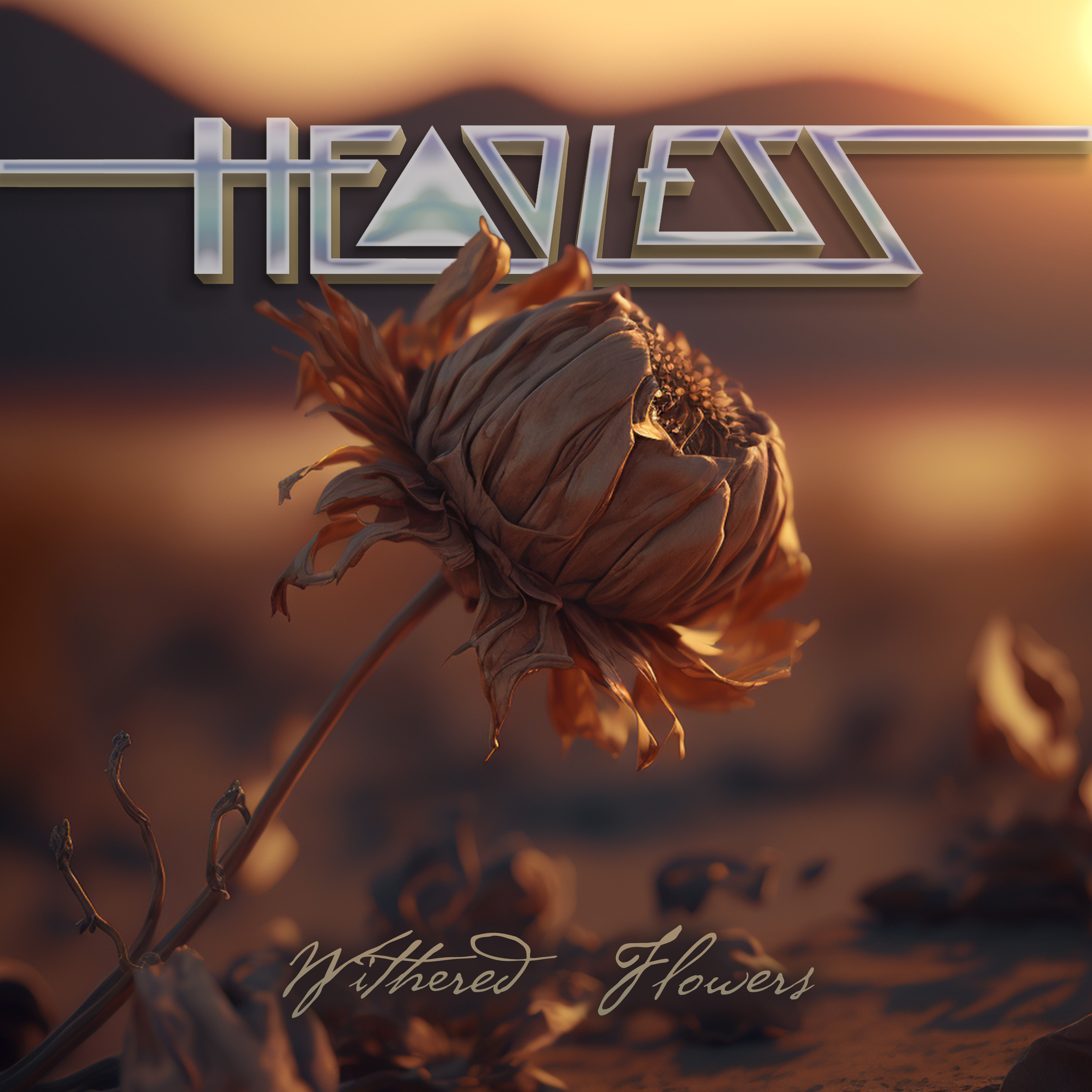 The European progressive/hard rock group HEADLESS – composed of former members of Yngwie Malmsteen, John Norum and Elegy – release a new animated music video for their brand-new song, "Withered Flowers." The clip can be viewed HERE. The standalone single – which is now available for streaming and download on all digital platforms HERE – features a blistering lead from guest guitarist Jeff Young (ex-Megadeth, Badi Assad, Kings of Thrash).
"Being a huge Megadeth fan, I invited my idol and new friend Jeff Young to shred with us on this new one," tells HEADLESS guitarist Walter Cianciusi. "I could barely believe my ears when listening to his performance the first time. He's amazing."
At the end of this month, HEADLESS will join singer Geoff Tate on his European shows promoting 35 years of Queensryche's classic concept album 'Operation: Mindcrime.' "Withered Flowers" was specifically recorded for HEADLESS' upcoming tour supporting the legendary singer's tour across Europe.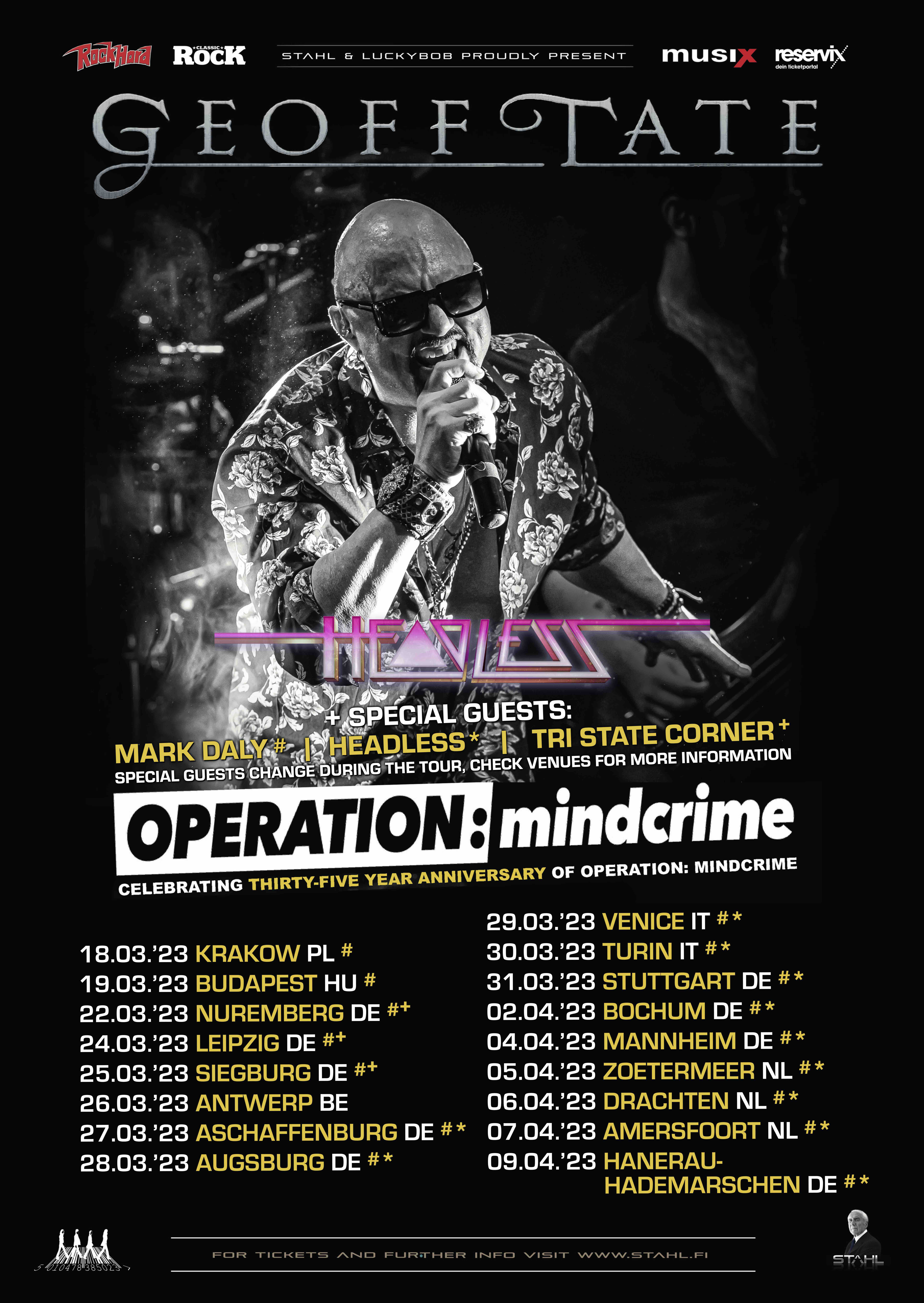 Geoff Tate with support from Headless
March 27 Aschaffenburg, Germany
March 28 Augsburg, Germany
March 29 Venice, Italy
March 30 Turin, Italy
March 31 Stuttgart, Germany
April 2 Bochum, Germany
April 4 Mannheim, Germany
April 5 Zoetermeer, Netherlands
April 6 Drachten Netherlands
April 7 Amsfoort, Netherlands
April 9 Hanerau-Hademarschen, Germany
"It's a song really reminiscent of Geoff Tate's material, composed to properly celebrate the occasion of a tour together," states Headless guitarist Dario Parente.
Walter and Dario should know Geoff's material as the duo have performed as the singer's guitar team for several years now, including appearing on the latest Sweet Oblivion album.
While "Withered Flowers" features the voice Göran Edman, who's fronted HEADLESS since 2011, getting his start in Sweden four decades ago fronting a variety melodic and progressive hard rock bands beginning with the likes of Madison, Swedish Erotica, Glory and more known internationally for lead vocals on albums by Yngwie Malmsteen, John Norum, and Karmakanic. But Göran will be absent on these live shows, instead the group will be fronted by another notable name.
"For this leg of the tour Göran was unavailable due to a very significant family issue," explains HEADLESS bassist Martin Helmantel. "I'm sad for him but at the same time I'm very enthusiastic to share the stage – after 23 years – with my bandmate in Elegy — Ian Parry, who will be filling in for Göran."
Ian Parry is another recognized presence in melodic rock and progressive metal circles, whose name while most associated with Elegy, has also recorded with Vengeance and his own Consortium Project amongst others.
Other than "Withered Flowers," HEADLESS continue to promote their M-Theory Audio debut, 'Square One,' an underrated album of classic rock, metal and progressive qualities balancing a fine line between all and showcasing some infectious, at times intellectual, and other times a pure fun rock record. The album is available on CD, with two variant colored vinyl options and on all digital platforms.
Several singles and videos were released showcasing the diversity of 'Square One,' including "Misdirection", "Streetlight Buzz" and an original take on AC/DC's deep cut "Two's Up".
HEADLESS was founded in 1996 by cousins Walter (guitars) and Enrico Cianciusi (drums). The original incarnation of the band released the 1996 EP "Future to Past" and the 1998 full-length "Inside You" before disbanding in 2000. Walter and guitarist Dario Parente revived the name in 2011 with an entirely new lineup, centering their new music around catchy rock choruses, progressive metal technicality and Edman's powerful vocals. That formula – aided by drummer Scott Rockenfield (Queensryche) – formed the basis of their 2013 comeback record "Growing Apart." Enrico rejoined HEADLESS in 2014 and subsequently contributed drumming duties on 2016's "Melt the Ice Away," which also featured a guest appearance from guitarist Jim Matheos (Fates Warning). The band's mastery of rock-solid AOR anthems was bolstered on 'Square One' by bassist Martin Helmantel, whose playing helped provide the backbone for a decade's worth of stellar progressive metal from Dutch rockers Elegy from 1992 through 2002.
HEADLESS has been a consistent live presence on European stages, performing alongside Fates Warning, Queensryche, Tygers of Pan Tang, Angra, Skid Row, Bonfire, D.A.D., Candlemass, The Dead Daisies and more.
HEADLESS is:
Göran Edman – vocals
Walter Cianciusi – guitars
Dario Parente – guitars
Martin Helmantel – bass guitar
Enrico Cianciusi – drums