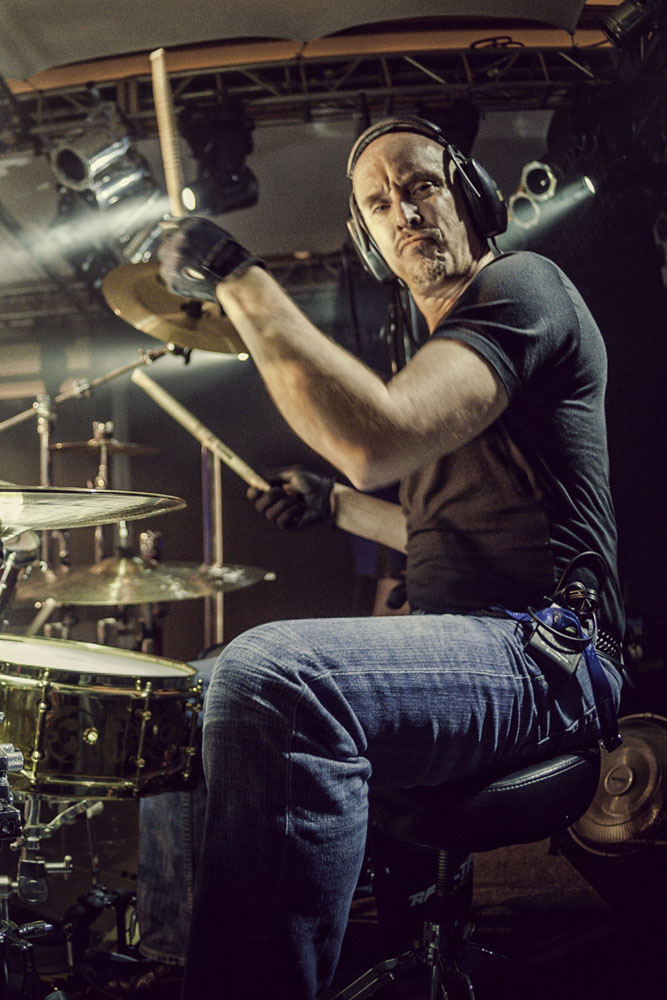 All songs featured in the Growing Apart album are shaped and arranged around the top class drumming performed by Scott Rockenfield
BORN
15 June 1963
ORIGIN
Seattle, Washington, USA
INSTRUMENTS
Drums
YEARS ACTIVE
1982-present
ASSOCIATED ACTS
Queensrÿche, Slave To The System
Call Of Duty
Scott was raised and has lived in the Seattle, Washington area for his entire life.
He started music and drum lessons at the age of 11 and focused his studies on music and film classes throughout his high school years.
In 1981, at the age of 17, he founded the now multi-platinum rock band Queensrÿche.
Since the band's inception thirty years ago, they've sold over 20 million albums worldwide and have toured around the world encompassing 45 countries.
Scott first started composing music for film and television in the late 80's during his time spent with "The Maestro" Michael Kamen.
During that time, Kamen asked Scott to work on some additional drums and percussion for the 1993 film, Last Action Hero, starring Arnold Schwarzenegger.
This began Scott's exciting new journey scoring music for film and television.
After only a few years in the specialty, Scott received a coveted Grammy Award nomination for Best Original Music for the animated feature film Televoid in 1998.
Scott has done a variety of projects since then including the recently completed additional music and all LIVE drums for the immensely popular video game, Call of Duty: Black Ops.
Released in November 2010, the game set a new five-day sales record with an estimated take of approximately $650 million worldwide.
Just prior to his involvement with Call of Duty: Black Ops, Scott did the orchestrated and electronic score for the horror flick, Albino Farm, released in September of 2009.
In 2003, Scott Launched his own custom drum company called RockenWraps, which specializes in custom graphic laminated wraps for drums and musical instruments.
Working with artists such as SlipKnot, Beyonce, Rod Stewart, Rob Zombie, Megadeth, WASP, Metallica, Tesla, 30 Seconds to Mars, Snoop Dog and many many, more,  RockenWraps has had a chance to design some of the most memorable drum and stage graphics ever to be available.
Scott also has his own music company, Hollywood Loops, that specializes in Sound FX for film, television and video game composing. Distributed around the world, Hollywood Loops products have now been used in video games such as Call Of Duty: Black Ops and also in numerous film and television trailers.
Scott now has dozens of film, television and multimedia projects to his credit and owns his own state-of-the-art recording studio.
He lives in Seattle with his wife and three kids.
Discography w/ Queensrÿche
•Queensrÿche (1982)
•The Warning (1984)
•Rage for Order (1986)
•Operation: Mindcrime (1988)
•Empire (1990)
•Promised Land (1994)
•Hear in the Now Frontier (1997)
•Q2K (1999)
•Tribe (2003)
•Operation: Mindcrime II (2006)
•American Soldier (2009)
•Dedicated To Chaos (2011)
•Queensrÿche (2013)