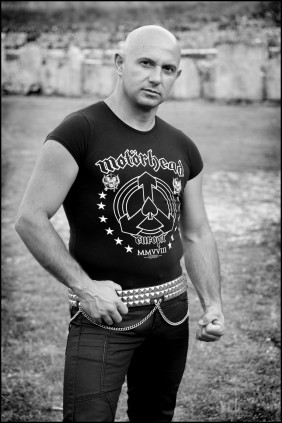 BORN
1 March 1975
ORIGIN
Magliano de' Marsi, Italia
INSTRUMENTS
Bass
YEARS ACTIVE
1990-present
Favorites
Band/Album: Blind Guardian – Imaginations from the Other Side, Slayer – South of Heaven
Movie: The Usual Suspects, Killing Zoe, The Silence of the Lambs
Meal/Food: Italian
Book: All by H.P.Lovecraft and Jeffery Deaver
Historical Figure: Leonardo Da Vinci
Holiday: 4th of July
Headless solo: God of Sorrow and Grief
Venue: San Siro Stadium, Milan (Italy)
TV shows: 80's TV shows
Hobbies: Collectibles
Cliché: e che è 'na novità?
Bass: Spector
Sport: Running
Album cover from a band: Killers – Iron Maiden
Season: Summer
Number: 16, 21, 28
Piece of technology: Commodore 64 (!)
Vacation spot: Puglia (Italy)
Websites: Ebay
Christmas/holiday song: …
Song from Headless: God Of Sorrow And Grief
Notables
Most memorable concert: Slayer + Sepultura + SOAD, Milan in 1999
What do you like to do to relax: Read my favorite books
Occupation if not a musician: Farmer
Musical Influences: Steve Harris, Geddy Lee
First concert ever seen: Iron Maiden + Anthrax, 20 November 1990 – Rome
Fondest memory: The birth of my son
Advice to other bands/musicians: Hold on!
Most important life lesson: The advices of your father are always the best.